Yopparai Sarariiman!!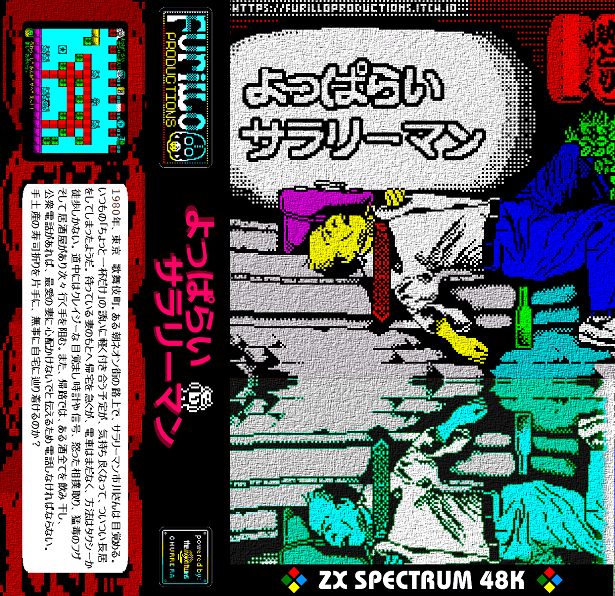 お知らせ!/ Update! / Novedad! (2022/05/17): 物理バージョンのリリースは「HobbyRetro」オンリンショップにあります。/ Physical edition available (cassette) at Hobby Retro online shop / ¡Ya disponible en formato físico (casete) en la tienda online de Hobby Retro! → https://hobbyretro.com/retro/yopparai-sarariiman

---
よっぱらいサラリーマン!!
1980年、東京 歌舞伎町。
ある夜明けネオン街の路上で、サラリーマン市川さんは目覚める。
いつもの「ちょっと一杯だけ」の誘いに軽く付き合う予定が、気持ち良くなって、ついつい長居をしてしまったようだ。
待っている妻のもとへ帰宅を急ぐが、始発電車はまだなく、方法はタクシーか徒歩しかない。道中にはクレイジーな目覚まし時計や信号、怒った相撲取り、猛毒のフグそして居酒屋があり次々行く手を阻む。
また、帰路では、ある酒全てを飲み干し、公衆電話があれば、最愛の妻に心配かけないでと伝えるため電話しなければならない。
手土産の寿司折りを片手に、無事に自宅に辿り着けるのか?

コントロール(キーボード):O=左、P=右、スペース=ジャンプ

※「KEMPSTONジョイスティック」と「SINCLAIRジョイスティック」も使用できます。

---
Dear friends: be aware that this game is in Japanese language because it has been made as an example of our extension for the MK1 engine by the Mojon Twins to develop games in Japanese (Hiragana) language. UPDATE: We have added as a BONUS the .tap files with the game translated into Spanish and English too. Enjoy!

Estimados amigos: éste juego está disponible en lenguaje japonés porque precísamente ha sido hecho para demostrar el funcionamiento de nuestra extensión para hacer juegos en hiragana japonés para el motor MK1 de los Mojon Twins. ACTUALIZACION: Hemos incluído como BONUS los archivos .tap con el juego en castellano en inglés también. Esperamos que os guste.

---
(en) Yopparai Sarariiman, by Furillo Productions
Furillo Productions team are: Molomazo and IADVD . Game powered by MK1 by The Mojon Twins including a tool to write Japanese hiragana text made by our team.
This is a first release, is you find bugs please let us know (should be fine, we have tested it, but who knows...)

(sp) Yopparai Sarariiman, hecho por Furillo Productions.
Furillo Productions somos: Molomazo e IADVD. Juego hecho con el motor MK1 de los Mojon Twins modificado para poder escribir en japonés hiragana con la fuente clásica Misaki.
Si encuentras fallos en el juego, por favor avísanos (debería estar bien, pero quién sabe...)

---
Technical Info / Datos técnicos:
- Furillo Productions are / Furillo Productions somos: IADVD & Molomazo.
- Original concept & characters / Idea original y personajes: IADVD.
- Design & graphics / Diseño y gráficos: Molomazo, inspirado en motivos e imágenes relativas a Japón de dominio público.
- Code & FX / Programación y FX: IADVD.
- Music / Música: IADVD. Versions of the following three popular Japanese songs: / Versiones de las tres canciones tradicionales japonesas siguientes: "Sakura Sakura" (さくらさくら), "Tōryanse" (通りゃんせ) y "Yuuyake Koyake" (夕焼小焼).

- Japanese language texts / Textos en japonés: スパーアナロジック.
---
Story / Historia
(en) Tokyo, 1980. After an epic party night with his boss at Kabukicho, a dazed Ichikawa-san wakes up at dawn lying on the street. There are no trains and he must return home quickly, by walking or taking some taxis. Grumpy sumo fighters, runaway clocks, crazy traffic lights and poisonous fugu fishes come in his way, trying to stop him. On his way home, he must drink as much sake as he can, and must call his wife on each telephone booth available around the city (so she will wait patiently to his arrival). He must return home with at least a delicious piece of sushi for her! There are lots of typical Japanese restaurants and shops around the city. Will he manage to arrive home?

(sp) Tokio, 1980. Tras una noche de borrachera épica con su jefe en Kabukicho, Ichikawa-san se despierta aturdido al amanecer tirado en la calle. No hay trenes y tiene que volver a casa cuanto antes, caminando o en taxi. Luchadores de sumo enfadados, relojes desbocados, semáforos locos y venenosos peces fugu salen a su paso para intentar retrasarle. Mientras regresa, debe beber todo el sake que pueda, y llamar por teléfono a su esposa para que no se enfade. ¡Y debe llegar a casa al menos con un paquetito de rico sushi de regalo para ella! Por su camino encontrará muchos bares y tiendas típicos de Japón. ¿Conseguirá llegar a casa?

---
The Game / El juego

(en) Walk through the city (or take a taxi!) until you arrive home. Get rid of all the sumo fighters, clocks and traffic lights by jumping over them. Drink all the sake bottles and make a call to your wife on each telephone booth you find along the way. You will be able to enter your home once you finish all those tasks.

(sp) Recorre la ciudad caminado y en taxi hasta llegar a tu casa. Elimina a todos los luchadores de sumo, despertadores y semáforos saltando sobre ellos. Bebe todas las botellas de sake disponibles y llama a tu esposa desde todos los teléfonos que haya en la ciudad. Solo podrás entrar en casa cuando finalices todas esas tareas.
---
Lives / Vidas
(en) You have a small package containing 15 pieces of sushi. Each time you hit something or something hits you, you lose one. Do not worry, from time to time you will find pieces of sushi here and there.

(sp) Dispones de un paquetito con 15 piezas de sushi dentro. Cada vez que te das con algo o alguien te golpea, pierdes una pieza de sushi. No te preocupes, de vez en cuando encontraras más piezas de sushi por ahí.

---
Counters / Contadores:


(en) (1) Defeated enemies (including sumo fighters, runaway clocks and crazy traffic lights); (2) Sake that you already drank; (3) Sushi pieces that you still have; (4) 1 Yen coins that you have; (5) Phone calls that you already did to your wife.

(sp) (1) Enemigos derrotados (incluye luchadores de sumo, relojes desbocados y semáforos locos); (2) Sake que te has bebido; (3) Piezas de sushi que te quedan; (4) Monedas que llevas; (5) Llamadas de teléfono que has hecho ya a tu mujer.

---
Controls / Controles:

O or Joystick Left / O ó joystick izquierda: ir hacia la izquierda.
P or Joystick Right / P ó joystick derecha: ir hacia la derecha.
SPACE or Joystick Fire / ESPACIO o disparo del joystick: jump/saltar.

Download
Click download now to get access to the following files:
YopparaiSarariiman_FurilloProductions_2021.tap
42 kB
YopparaiSarariiman_FurilloProductions_2021_BONUS_Transl_EN.tap
42 kB
YopparaiSarariiman_FurilloProductions_2021_BONUS_Transl_SP.tap
42 kB